Date Added - 12/12/12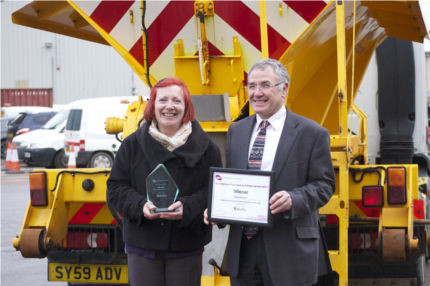 Moray Council's road maintenance teams have been named as the UK's best performer in highways and winter maintenance by a national public sector monitoring charity.
Moray was voted the best from eight other finalists in the category, which included Argyll & Bute, Hull City, Hartlepool and Midlothian Councils.
The award was presented by the Association for Public Service Excellence (APSE), a not-for-profit organisation working with over 300 local authorities throughout the UK that benchmarks performance in front-line services.
To enter, each council has to submit comprehensive details on its performance over the last 12 months. The data is verified by APSE and participating authorities use them to compare and measure improvement to their functions.  Moray Council last won this award in 2005 and have been finalists several times since.
Chair of the council's Economic Development and Infrastructure committee, Cllr Fiona Murdoch, congratulated the roads teams.
"Residents in my ward know only too well how important road maintenance is, particularly at this time of year when routes are affected by freezing temperatures and snow," she said.
"Staff are out at all hours to keep Moray's main routes open and vital services moving, often in extremely challenging conditions.
"In these times of restricted budgets it is reassuring that the staff in this section have out-performed many others in bigger authorities across the UK, not only in winter maintenance but also for the upkeep of the area's 1,000km of roads."
In a separate report from the Society of Chief Officers of Transportation in Scotland (SCOTS), Moray's roads were judged to be among the best maintained in Scotland, lying fourth from 32 council areas surveyed by independent road engineers.
APSE assistant chief executive Mark Bramah said: "When public finances are squeezed it is more important than ever that local councils are able to demonstrate to local taxpayers that they take value for money seriously.
"By benchmarking with other councils these winners have shown that they are providing both excellent frontline services and value for money for local citizens.
"It is a credit to them that they have been recognised for their outstanding efforts'.