Date Added - 21/02/13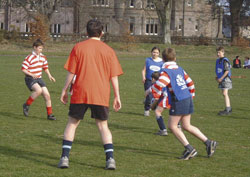 A fund set up in memory of a member of the Moray Road Runners is inviting applications on behalf of local schoolchildren keen to become more involved in sport.
The Pinto Tribute Fund – established five years ago following the death or Alistair Sim, who was known as Pinto – has already disbursed almost £4000 to over 30 young people.
Mr Sim had battled alcohol addiction when he was younger and the fund is aimed at preventing youngsters from taking the wrong path in life by channelling them towards participation in sport or physical activity.
Money disbursed so far has been used to purchase kit, membership fees and equipment and to attend holiday camps in a range of sports including horse riding, gymnastics, golf and taekwondo.
Although no maximum figure is set, individual awards have tended to be around £200.
The fund is administered through sportMoray and application details are available from Moray Council's sports development section on 01343 563657 or by e-mail at sports.development@moray.gov.uk