Active Schools in Moray
Active schools  need you to help get 'more children, more active, more often'! 
Active Schools is a Scottish Executive initiative, joint funded by sportscotland 

and the local authority, with the aim of increasing the activity levels of children by enabling the provision of high-quality, safe and sustainable physical activity opportunities for all pupils.  The Active Schools team will provide these opportunities during the formal, informal and extended curriculum as well as in the wider community.  The remit of the program is wide and includes all forms of activity: sport at the grass-roots level, active travel, outdoor adventure and the active arts.
The key objectives of the program are:
To get children to be physically active for one hour a day, making 'more children, more active, more often'.
To develop sustainable pathways and opportunities for children to develop their interests and potential.
To develop fully inclusive programmes so that every child in every school has access to physical activity and sporting opportunity.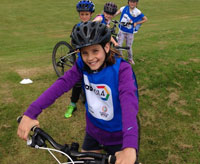 Do you have a little time to spare? 
Could you help lead activities for children?
Would you like to gain a qualification in coaching sport or leading other activities?
You don't have to be sporty to lend a hand – just enthusiastic!   We are looking for people to help out with a range of activities. From woodland walks to after-school sports clubs - there is something for volunteers of all ages and abilities.  The time commitment is up to you and training will be provided.
If you are already quite active or sporty and would like to gain a qualification (sports coaching, trail cycle leader, mountain leader, etc) we can arrange and fund training.   If you have a lapsed qualification and would like refresher training, we can help with that too.
For more information on the 2015/16 courses (PDF) (or to suggest future training/courses) please contact your local Active Schools Co-ordinator who can be found in the contacts list at the bottom of the page.
Secondary School Reports
Primary School Reports
If you are interested in either volunteering or gaining a qualification, please contact your local Active Schools Co-ordinator
Our direct link address to this page is moray.gov.uk/activeschools or visit us on the  Glow Portal  and 

Contact Us
Active Schools Co-ordinators
Education and Social Care
Council Offices, High Street,
Elgin, Moray,
IV30 1BX

01343 563890
Rate this Page