DofE Moray Volunteers
Hi everyone we are Lee and Gavin at DofE Moray Council,  part of the Children's Wellbeing (Engagement) team, The Moray Council.
We are based in Lossiemouth Community Centre, where we coordinate and run The Duke of Edinburgh's Award for young people and adults who support them throughout Moray.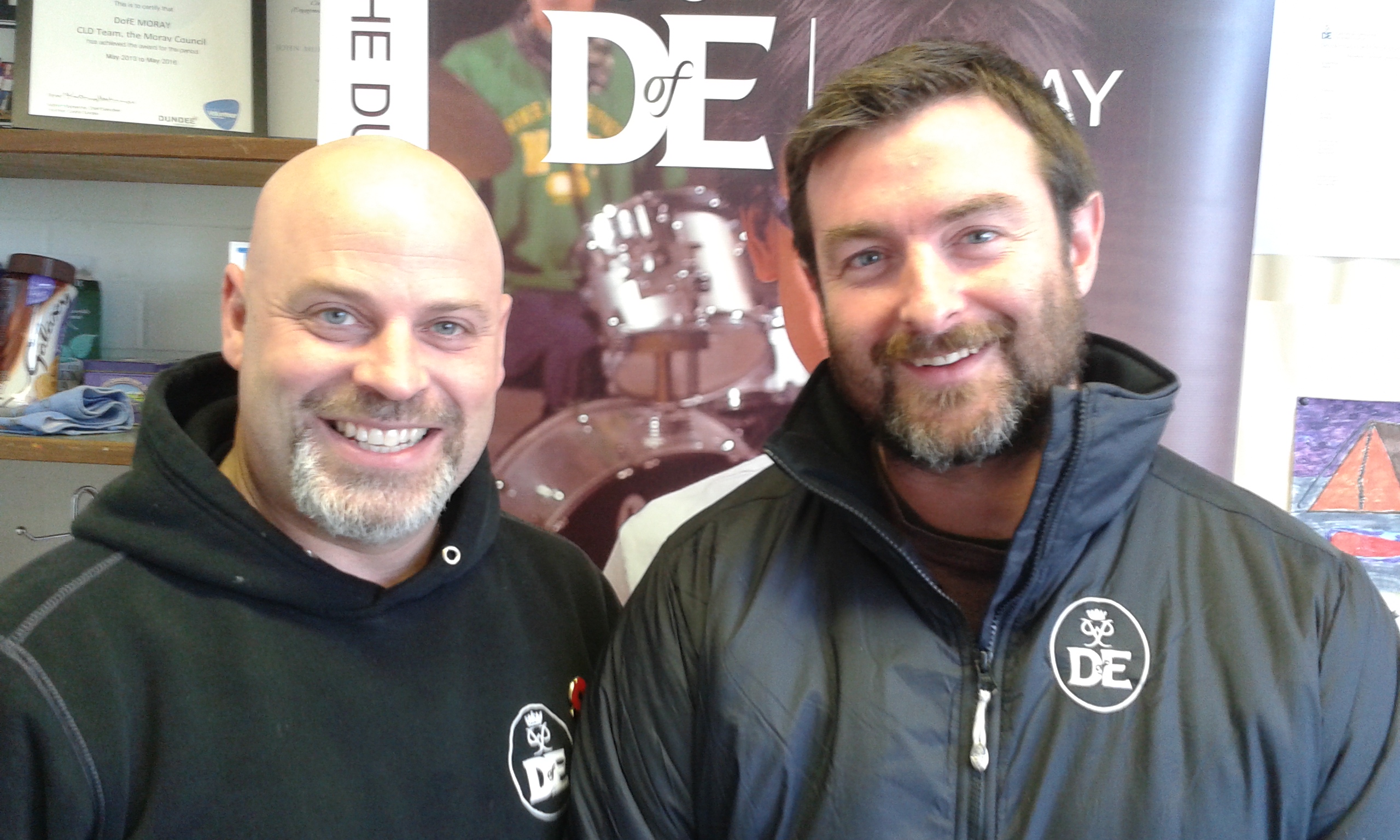 The success of DofE Moray is down to the adults who volunteer to support young people through their award.
Below is some information on what volunteering opportunities there are available and what is involved in becoming a volunteer. If you feel inspired it would be great to hear from you.   
In Moray we are seeking volunteers to help in a number of roles
Becoming an award group leader/co-ordinator and setting up and running a DofE group in your local area.
Assisting the award leader with running a specific group.
Becoming an expedition supervisor and supporting young people through their expedition section.
Assisting the expedition supervisor with the expedition section.
Becoming an assessor for a specific section (Skills/Physical/Volunteering/ Expedition)
Helping us to fundraise and raise awareness of DofE Moray
There are a variety of volunteers with The Duke of Edinburgh's Award see DofE website for volunteers
If you are interested in becoming a volunteer print off the volunteer application form and adult publicity consent forms:-
and send to:-
Development Officer
DofE Moray
Lossiemouth Community Centre
Coulardbank Road
Lossiemouth
IV31 6JW
Tel: 01343 813614
Email: dofemoray@moray.gov.uk
Once we receive your registration form the next step is to send you out a disclosure Scotland pack so that The Moray Council can have your disclosure checked to work with young people on The Duke of Edinburgh's Award in Moray.
Overview of how to become a DofE Volunteer  (click here for process and DofE training matrix)
Here is a short overview of how you become a DofE Volunteer and information and links that are relevant to you.
Contact the DofE Moray Council team for an initial meeting (01343 813 614 / dofemoray@moray.gov.uk ).
Send in the completed application forms and we will contact your two referees for references as part of our employee recruitment policy.
A 'Protecting Vulnerable Groups (PVG) disclosure pack and letter will be posted out to you. We will arrange to meet with you to check through your disclosure form and will need to check three forms of ID from you (2 photo Ids (e.g. Passport/ Driving licence) and a Utility / bank statement with your current address on it. We will then process this and the Moray Council will cover the costs of the disclosure process.
At this meeting or another we will discuss with you what opportunities you may be interested in as a DofE Volunteer. Actual volunteering will not commence until after the disclosure process has been confirmed, and this is usually a good time to undertake any DofE training courses that are available to you.
There is an e-induction course online at www.dofe.org/training  

This is the first step as a new volunteer as other courses for DofE require that you have completed this induction course. Other training that is relevant includes child protection training (refreshed every 3 years) and we can offer 'Youth Work and group skills training' We also offer 'introduction to DofE', 'Expedition Supervisors course', Expedition Assessor Accreditation' and  'eDofE training' Go to our Calendar of Events to find out more.
You can be added to the DofE Moray volunteers email list to be kept up-to-date on all things DofE (contact dofemoray@moray.gov.uk) .
As a volunteer for DofE Moray, through the Community Learning and Development Youth team (who hold the DofE Licence)  you come under the Moray Councils public liability.
Moray Local Awards Committee is a registered Scottish charity (SCO43423) set up to support both the adult volunteers and the participants of the The Duke of Edinburgh's Award throughout Moray in partnership with Moray Council. As a DofE volunteer you are automatically a member of this charity and can attend the meetings which is a place to 'have your say' in how DofE is developed. Some of the current priorities include volunteer training and development, fundraising and improving support and opportunities for DofE participants.
Links to useful policies and procedures:
As a volunteer you can request a support meeting with the DofE Development worker at dofemoray@moray.gov.uk or telephone 01343 813 614.
We want to thank you for volunteering with DofE Moray and wish you an exciting journey with us, both for yourself and the young people you support.
DofE aim to ensure a high quality of experience for both volunteers and participants, and so they ask all volunteers to complete the online e-induction course.
Next we would help support you in the specific volunteering area by linking you in with other volunteers to gain some experience and help, as well as offering the more formal "Introduction to the Award" training and any other additional training that is appropriate.
You will find all the forms and guidance notes needed as a volunteer in the "Document" section on the right of this screen. When using the Volunteer expense form (PDF)  Please ensure you include VAT petrol receipts and keep the forms per month (payments can backdated a maximum of three months) and send to the Development Officer at Lossiemouth Community Centre. 
We will keep adding more information that is relevant to you, let us know if there are resources or information that could be useful for you, thank you.
Contact Us
Duke of Edinburgh Moray Award Officer
Lossiemouth Community Centre
Coulardbank Road
Lossiemouth
IV31 6JW

01343 813614
Rate this Page