Moving into your new home
This page is based on our leaflet Moving into your new home (PDF)  This leaflet contains some information which has changed since it was published.  The Social Fund has been replaced with the Scottish Welfare Fund.  The changes are explained in more detail below.
Congratulations on your new home! Although this is obviously great news, you will be very busy organising the move.  
If you don't know where to turn or what to do first, this page should help answer some of your questions
Before you move into your new home, you should work out how much your basic weekly expenses are likely to be.  To have enough money to cover all these expenses, you need to know how much money you have coming in and how much money is going out. You should make a list of the things you will have to spend your money on, such as:
rent (this should be on your tenancy agreement/lease) or mortgage payments;
service charges;
utilities such as gas and electricity;
Council Tax and water charges (if you are our tenant, we will tell you this in the offer letter. Otherwise you should contact our Revenues Section to find out how much you will be paying);
phone calls;
housekeeping – food, cleaning materials, toiletries and so on;
building and/or contents insurance (we and some housing associations have our own insurance schemes);
clothing;
TV licence;
decoration and furniture costs; and
moving costs such as hiring a van, removal company or storage.
Once you have added up all your expenses, work out how much income you will have, including any benefits you are entitled to and deduct the total expenses from
this.
In April 2013, a new service known as the Scottish Welfare Fund was introduced to replace the Social Fund.  There are now two types of grants available:
crisis grants which may be awarded in a crisis to help those to meet expenses that arise due to an emergency or disaster; and
community care grants which may be awarded to help support independent living.
You can get more information and find out to apply on our Scottish Welfare Fund webpage.
Your landlord should explain your rights and responsibilities when you sign your tenancy agreement and give you a copy of your tenancy agreement/lease.  
If you are our tenant, you should read through your Tenants' Handbook (when you move in) to make you aware of the procedures for dealing with issues such as paying your rent, reporting a repair and so on.  Your area housing officer will arrange to visit you four to six weeks after you have moved into your home to see how you have settled in and talk about any problems.  Housing associations may have different arrangements and you should ask them about this.
A stopcock is a valve used to restrict or cut off the flow of water in a pipe.  Make sure you know where the stopcock is (it is usually under the kitchen sink) in case
you have to turn the water off in an emergency.  You should also make sure you know where to find the trip switches, and gas mains valves as you may need to
turn them off in an emergency.  Keep a torch in a handy place in case there is a power cut.  
If you are moving to a flood risk area, you may want to register with Floodline  for a free warning message.  
You can view a list of emergency phone numbers, please see below.  If you are renting, you should also make sure you know how to contact your landlord in an emergency.
As soon as you move in, you should find out where all the meters are in your home and make a note of the location of each one.  You should have:
a gas meter (if the property has gas); and
an electricity meter.
Find out how to get into the meter boxes and make a note of the serial number and reading of each.  If you don't know who your gas and electricity suppliers are, contact the following organisations and give them the serial number of the meter.  They should be able to help you.
Gas – phone the national enquiry line on 0870 608 1524.
Electricity – phone Scottish and South Energy on 0345 026 2554.
Once you know who your supplier is, contact them and give your name, address, serial number and meter reading so they can work out your first bill.  You can find a list of energy suppliers in the Yellow Pages .  You may want to contact suppliers for quotes or use a price comparison website to make sure that you are on the best tariff.
There may also be other help available.  For example grants for insulation, to make sure your home wastes less energy and also reduce your bills.  For more information contact the Energy Saving Trust .
Insurance can be expensive, but it may be worth it for peace of mind.  Don't forget that there may be a flood or a fire in which you lose everything.  Not having insurance can prove to be very expensive if you have to replace your belongings.  
If you are renting, you should check with your landlord if they have insurance.  Your landlord's insurance will not usually cover loss or damage to your property, so you will have to take out your own insurance to cover the contents.  
If you are buying a property you will need to arrange for buildings and contents insurance as a condition of your mortgage.
You can find a list of insurance companies in the Yellow Pages .  Phone around or use a price comparison website to get a few quotes.  We and some housing associations offer discount contents insurance to tenants.  Contact your housing provider for more information.
Council Tax is used to help pay for services used by the community such as education, housing, roads, social work, police and fire services.  You need to tell our Revenues Section if you are moving home.  
The amount you pay depends on the band of property you will be moving into and your personal circumstances.  
There are some people who may not have to pay Council Tax for example, full-time students or those under 18 years old.  Others may qualify for a discount, for example if they are living alone. Contact our Revenues Section for more information.
If you rent your home and your landlord supplied furniture and appliances, you should be satisfied that they are safe to use.  Make sure that electrical appliances which are not new have had a safety check (this is known as PAT testing) and have a green sticker showing the date they were last checked.  If you are concerned that any appliance is not safe, you should contact your landlord.
If you need to supply your own appliances, then it is better not to buy second-hand electrical goods as they can be faulty and dangerous, unless you know that they have come from a good source and have been safety checked.
If you need to buy furniture but are on a low income there are services that can help.  There are websites such as Freecycle  where you can find useful household items for free.  If you don't have access to the Internet you could visit your local library.  You might also be able to buy second hand furniture at a reduced rate from local charities in the area such as The Green Home (Buckie) or Moray Waste Busters (Forres) .
Any furniture should be fire-resistant. All new and second-hand furniture sold after 1 September 1990 should meet the fire-safety regulations and should carry a label saying so.  The regulations also apply to landlords who include furniture in the rental property.  The following is an example of a label from an item of upholstered furniture.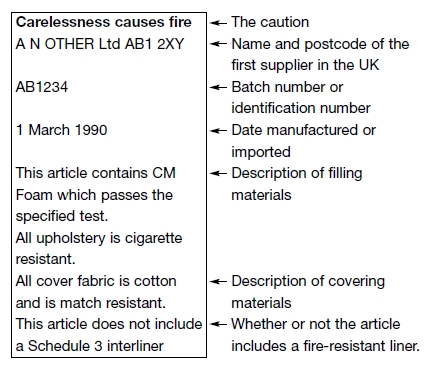 Your housing provider is legally responsible for repairing your heating, gas, water and electricity supplies, and sanitation (washing facilities and services for taking away waste water).  However, if the damage is deliberate, you will be charged for the cost of the repair.  
If you rent and want to make an alteration to the property, always get your landlord's permission first.  
Never allow anyone to work on or install gas appliances in your home unless you are sure they are Gas Safe registered. You can check if an engineer is registered
online  or phone 0800 408 5500.
The following information is for general guidance on some basic DIY.
Mending a fuse at the fuse box
Always switch off the electricity (the on and off switch) at the fuse box before repairing fuses.  Three types of fuses are used in a fuse box, depending on which type of fuse box you have.
Standard
This contains a length of wire attached to the screw terminals.  If the wire has broken or burnt out, replace it with wire of the same 'rating' (the number of amps).  Most fuses say which amp fuse wire you should use.  If you are not sure which one to use, take the old fuse with you to your local hardware or DIY shop.  These fuses are not very common any more.
Cartridge fuse
You just buy a new cartridge with the right fuse rating.
Modern fuse
These are switches on a trip-switch fuse box.  Each switch operates an electrical circuit.  The switch will turn itself off if a circuit becomes overloaded.  All you need to do is turn off any appliances you don't need to be using and then turn the switch on again.  If you are renting and a fuse keeps turning itself off, you should tell your landlord who should arrange to check the fault.
Make sure your home is secure.  You don't want to come home and find that someone has broken in, stolen all your belongings and damaged your home.  When you move in, put up curtains as soon as possible as it makes your home look as if it is lived in, and people are less likely to break in. 
If you are going out or away on holiday, make sure all the doors and windows are properly locked.  Write your postcode on items with an ultraviolet pen, and engrave your postcode on bikes and scooters.  Take photographs of valuables and write any serial numbers on the back of photographs.  Make sure you cannot see expensive items such as a TV, stereo or computer from the street. 
If you rent your home and are going to be away for a long time, tell your landlord.  If you are going to be away over the winter months you should tell your landlord
before you leave so that arrangements can be made to drain the water system in the property to avoid burst pipes.  Your housing provider will not keep a spare set of keys so ask someone you really trust to keep a spare set in case of an emergency or if you are locked out.
Only let people into your home who you know and trust.  If anyone visits from the gas, electricity, water or phone companies, the police or the Council, it is your responsibility to ask them for proof of identification before letting them in.
It is always a good idea to register with a local GP or health centre – don't wait until you become ill.  NHS doctors and clinics are free and are extremely useful for
finding and using other services in the area, such as dental practices.  Most clinics also provide other healthcare such as 'well women clinics', and can also refer you to hospital and specialist services.  Contact healthpoint  to find your nearest health centre or health services.
Most people hate housework as it can be boring.  You can decide how often you do it.  Some people will do some every day, others once every week or every two weeks or so.  But try to do it regularly as not doing it can affect your health and your tenancy.
Remember to tell everyone who needs to know that you have moved for example, your friends, family, employer and school.  Don't forget to tell any agencies if you are claiming benefits.
There is a website, iammoving.com , which can help you tell many organisations of your change of address.  It may also be worthwhile asking your local post office to forward mail  to you but you will be charged for this service.
Advice/information
Citizens Advice  - 01343 550088
Electricity  (find out your electricity supplier's details) - 0845 026 2554
Energy Saving Trust  - 0800 512 012
Gas national enquiry line  (find out your gas supplier's details) - 0870 608 1524
Gas Safe Register  - 0800 408 5500
Police Scotland  (non-emergencies) - 08456 005700
Healthpoint  - 0500 202030
Moray Waste Busters (Forres)  - 01309 676056
Revenues Section (for housing and Council Tax benefit advice and information on the Scottish Welfare Fund) - 01343 563456
Jobcentre Plus - 0800 055 6688
NHS 24  - 08454 242424
Moray Women's Aid - 01343 548549
Electrical emergency - 0845 272 7999
Emergency services (police/fire/ambulance) - 999
Floodline  - 0845 988 1188
Gas emergency - 0800 111 999
Moray Council out of hours emergency service - 08457 565656 (Monday to Friday 5pm to 8.45am and weekends)
Water company - 0845 600 8855
Registered Social Landlords (RSLs)
Contact Us
Housing and Property

Contact Us
Emergency Out of Hours

03457 565656
Rate this Page