Draft Active Travel Strategy
A 12 week consultation period will commence on Monday, 10th January 2022 with two virtual consultation events taking place on Monday 28th March at 10am - 11.30am and 7pm - 8.30pm. These will be held via Microsoft Teams. The comments and responses received during this period will be taken into consideration when finalising the strategy. Should you wish to join, please email ActiveTravel@moray.gov.uk for the link, and with any accessible requests to join you may have.
What does the strategy cover?
The strategy is a 5 year plan from 2022 to 2027 that aims to harness the increase in walking and cycling seen over the last 5 years. Having an up to date and relevant strategy will enable us to effectively continue to increase opportunities for safe, attractive and enjoyable active travel.
As part of the strategy, six objectives have been agreed, in consultation with key stakeholders, community groups and individuals with an interest in Active Travel.
From these objectives an action plan has been developed with detailed steps that need to be carried out to achieve the objectives. Details of how the key actions will be delivered, along with timescales, are included and will be subject to regular review.
The delivery of the draft Active Travel Strategy will be through the Council's own programme of promoting sustainable and active travel, cross departmental work with other areas of the council, in addition to the ongoing partnership approach with external funders, the community and other interested parties.



Read the Draft Strategy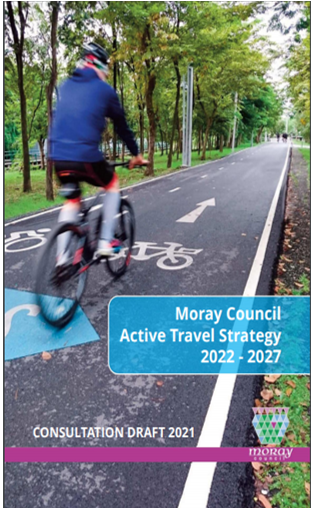 You can take part in our survey online link to survey monkey, which opens from 10th January 2022 and closes on 3rd April 2022, via the QR code, lookout for postcards and posters at various locations, or email ActiveTravel@moray.gov.uk for more information. Paper copies of the Draft Strategy and survey will also be available in local libraries.
We look forward to receiving your feedback.
Rate this Page