Public Toilets
Public Toilets
We currently provide 32 public toilets throughout Moray. These are not attended but have a scheduled cleaning regime to a required standard. Three of the public toilets are cleaned by members of the local community in Craigellachie and Aberlour with financial assistance for materials and maintenance. Please click on this Link to Public Toilet Locations -  Update 14/09/17 - The Gents Public Toilet at Portknockie will be closed until further notice due to an access issue following adverse weather conditions.  We apologise for any inconvenience.
For information about Radar Keys read our Frequently Asked Questions.
Elgin Comfort Scheme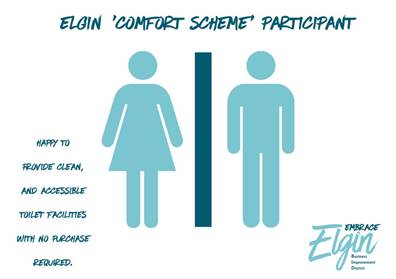 Embrace Elgin – Elgin BID are proud to have introduced a 'Comfort Scheme' in Elgin.  Delivered in partnership with local businesses who are providing visitors access to clean toilet facilities in convenient locations, during normal opening hours, with no purchase required.  Many of the premises offer disabled access and baby change facilities.
Click on the links below showing you the businesses currently signed up to the scheme - which include:
Contact Us
Recycling Hotline

Rate this Page