Sports Development
Sports Development
Sports Development lies within the Lifelong Learning, Culture and Sport Section of the Education and Social Care Department. The team is made up of the Sports Development Officer, Rugby Development Officer, Community Sports Hub Development Officer, Active Schools Co-ordinators and a team of Sports Coaches and Assistants.  
Follow us on facebook.
A number of agencies and organisations in Moray devised the Physical Activity, Sport and Health Strategy for Moray 2007-2012 'Living an Active Life.' The vision of this strategy is to improve the health and wellbeing of everyone in moray through physical activity and sport.
Early years – Changing the culture in families so that active living becomes habitual: introducing activity from birth, involving the family group and encouraging basic skill acquisition at a young age.
School Age Children - increasing the physical activity levels of schoolchildren and providing them with the basic skills to participate to their full potential in a wide range of play and sports.
Community Participation – targeting the sedentary population, focussing on effecting behaviour change to reach the recommended activity levels. Maintaining active lifestyles and increasing activity levels in key population groups. 
Facilities - Developing a strategy for sports and leisure facilities in Moray.
Moray Council Sports Development and a number of internal and external partners are currently working on the creation of a new Physical Activity, Sport and Health strategy for 2014 and beyond.  This strategy will link in with the Moray 2023 plan and other relevant strategies.
The Sports Development Team undertake a variety of duties within their remit. The following are some key areas where they focus their efforts;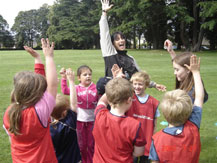 providing activities for people of all ages to participate in
supporting sports clubs to thrive and develop
train and mentor sports coaches and volunteers
develop partnerships to pull resources, skills and expertise together for the benefit of the community
developing talent and excellence in sport
For further info on the Sports Hubs go to www.sportinmoray.co.uk  
We work with a range of partners to assist in the implementation of the 'Living an Active Life' strategy. Some of these partners include Third Sector Interface Moray, Outf!t Moray, SportScotland, NHS Grampian, Forestry Commission, Moray College, Moray Leisure Centre, sportMoray, National Governing Bodies of Sport and the Big Lottery.
The Sports Development Team comprises the following staff;
Sports Development Officer
Tel: 01343 563657    Mobile: 07800 670675
Email educationandsocialcare@moray.gov.uk
Community Sports Hub Development Officer
Tel: 01343 563644    Mobile: 07970 974857
Email educationandsocialcare@moray.gov.uk
Rugby Development Officer
Tel: 01343 563894   Mobile: 07527 387549
Email educationandsocialcare@moray.gov.uk
Contact Us
Sports Development
Education and Social Care
Council Offices, High Street,
Elgin, Moray,
IV30 1BX

01343 563657
Rate this Page