Active Schools and Sports Development
Active Schools and Sports Development lies within the Lifelong Learning, Culture and Sport section of the Education and Social Care Department.  The team is made up of an Active Schools and Sports Development Manager, Active School Co-ordinators, a Community Sports Hub Officer, Macmillan Move More Development Officer and Sports Coaches and Assistants.
A number of agencies and organisations in Moray devised the Physical Activity, Sport and Health Strategy for Moray 2016-2026. The vision of this strategy is 'Physical Activity and Sport are embedded in the lives of the Moray community'.
The five Outcomes of the strategy are as follows:
We provide a strategic approach to the operation and management of our sport and leisure facilities (both natural and built environment)
We encourage, enable and support opportunities for people in Moray to participate, progress and achieve in sport/physical activity
We develop, support and strengthen both the paid and volunteer physical activity and sporting workforce in Moray
We recognise, highlight and showcase how sport/physical activity can benefit people and the local community and how it is intrinsic to daily life
We provide strategic direction, co-ordination and support to achieve our vision of embedding sport and physical activity into the lives of the Moray community.
Active Schools
Active Schools is a successful partnership between sportscotland and Local Authorities that has been operating for over 10 years.  The aim of Active Schools are to provide more and higher quality opportunities to take part in sport and physical activity before school, during lunchtime and after school and develop effective pathways between schools and sports clubs in the local community.  A key role is also to develop a network of volunteers to deliver activity sessions.
Active Schools - an infographic conveying the key outcomes of Active Schools is displayed below covering the key areas of participation, people and profile.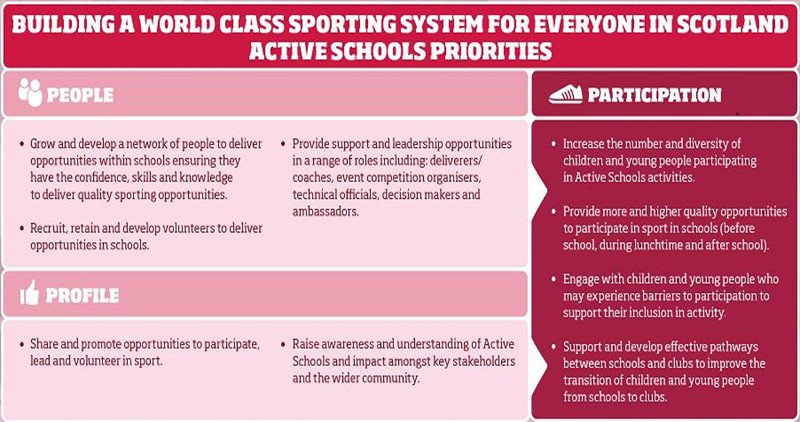 Sports Development - The Sports Development Team undertake a variety of duties within their remit. The following are some key areas where they focus their efforts: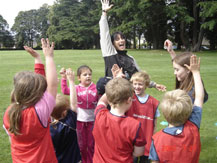 providing activities for people of all ages to participate in sport/physical activity
supporting sports clubs and physical activity organisations to thrive and develop
train and mentor sports coaches and volunteers
develop partnerships to pull resources, skills and expertise together for the benefit of the community
develop talent and excellence in sport.
The Sports Development Programme of activities can be found via the following link - http://sportinmoray.co.uk/mcsh/sports-development/activities/
The Active Schools Programme of activities can be found via the following link (or by contacting your local Active Schools Co-ordinator see details below) - http://sportinmoray.co.uk/mcsh/active-schools/active-schools-moray/
Community Sports Hubs focus on the clubs and other local organisations that want to work together to improve the sport offered in their local community.
A community sport hub is focused on the clubs around a sport centre, community centre, school, park or a playing field pavilion.  In some cases a community sport hub combines a number of these places, or it may simply centre on a single-venue hosting many clubs. The 'hub' is essentially a collective of progressive sport clubs working together in a local community.
Each community sport hub is unique but the common thread is that each works to the following five principles:
Growth in participation
Engage the local community
Promote community leadership
Offer a range of sporting opportunities
Bring all appropriate (key) partners/ groups/people together.
Each community sport hub develops their own vision and values to ensure all involved are clear on the work they will do together, which is detailed in a simple, clear plan to improve the sport on offer.
For further info on the Sports Hubs visit www.sportinmoray.co.uk  
We work with a range of public, private and voluntary partners to assist in the implementation of the Physical Activity, Sport and Health strategy. Some of these partners include Third Sector Interface Moray, Outf!t Moray, SportScotland, NHS Grampian, Forestry Commission, Moray College UHI, Moray Leisure Centre, Moray Sports Centre, sportMoray, national governing bodies (NGBs) of sport, and Paths for All.
Active Schools and Sports Development Manager
Tel: 01343 563657 Mobile: 07800 670675
sports.development@moray.gov.uk
Community Sports Hub Development Officer
Tel: 01343 563644 Mobile: 07970 974857
dimitris.chrysanthakopoulos@moray.gov.uk
Macmillan Move More Development Officer
Tel: 01343 563642 Mobile: 07970 826989
MoveMore@moray.gov.uk
Active School Co-ordinators;
Rate this Page