Buckie harbour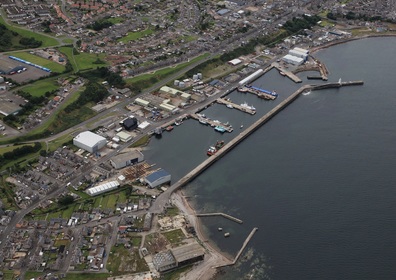 Buckie harbour is an established commercial port with four basins. Currently servicing the operations and maintenance craft associated with the Beatrice Demonstrator turbines, the port has a proven track record of supporting the activity associated with offshore renewable energy developments and has the capacity, supply chain links and geographic location to embrace further expansion in this area.
Historically an important fishing harbour, Buckie also provides a complete servicing package for the fishing fleet. It is also home to a successful manufacturing, boat repair, cargo handling and fishing businesses, as well as our dredger, MV Selkie.
Up to 100,000 tonnes of cargo are handled each year ranging from bulk shipments of timber, stone, foodstuffs to fabricated steel modules.
Those visiting Buckie harbour by vessel should contact the harbour office to inform them of your arrival. You can call 01542 831700 or radio VHF Channel 16, working channel 12.
For up to date information please contact the harbour by phone on 01542 831700 or email buckieharbour@moray.gov.uk.
Rate this Page