Dredging Services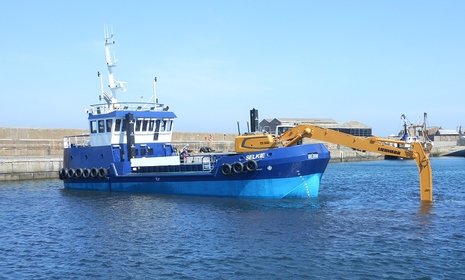 The port of Buckie is now home to our brand new £2.4million dredger, MV Selkie. Named by schoolchildren after a mythical Scottish creature which resembles a seal in the water but takes human form on land, it will be undergoing sea trials with a view to being made available commercially in Summer 2016. 
You can see pictures from our test dredging at Whitehills Marina by visiting their website.
MV Selkie facts and figures
Designers: MacDuff Ship Design Ltd.
Builders: MacDuff Shipyard Ltd. (Buckie)
Classification: Workboat Cat 3
Crew: Master, Engineer & Deckhand
Home port: Buckie, Moray Firth
LOA: 25.7 metres
Registered Length: 24.2 metres
Breadth: 8.2 metres
Draught: Hopper empty 2.3metres/ full 3.2metres
Max Speed: 9 knots
Range: 1,400 NM
Dredging Equipment: Long reach excavator with buckets
Max. Dredging Depth: 9 metres
Hopper Capacity: 147 cubic metres
Positioning: 2 spud legs & bow thruster
Availability: June 2016
For all dredging enquiries, please email us.
Rate this Page