Dredging Services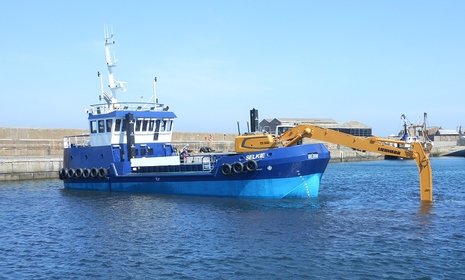 The MV Selkie is an efficient, highly manoeuvrable and cost-effective solution to a wide variety of dredging and associated marine projects.
Based at Buckie harbour on the Moray Firth, the vessel ideally suited to service ports and harbours around the UK coastline.
Equipped with a 360° excavator and a range of buckets, MV Selkie is available for one-off dredging projects, contracts and other civil marine works.
You can see pictures from our test dredging at Whitehills Marina by visiting their website.
MV Selkie facts and figures
Designers: MacDuff Ship Design Ltd.
Builders: MacDuff Shipyard Ltd. (Buckie)
Classification: Workboat Cat 3
Crew: Master, Engineer & Deckhand
Home port: Buckie, Moray Firth
LOA: 25.7 metres
Registered Length: 24.2 metres
Breadth: 8.2 metres
Draught: Hopper empty 2.3metres/ full 3.2metres
Max Speed: 9 knots
Range: 1,400 NM
Dredging Equipment: Long reach excavator with buckets
Max. Dredging Depth: 9 metres
Hopper Capacity: 147 cubic metres
Positioning: 2 spud legs & bow thruster
Availability: June 2016
For all dredging enquiries, please email us.
Rate this Page