Hopeman Harbour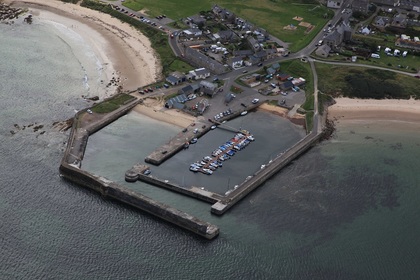 Hopeman harbour was originally built for the export of sandstone quarried nearby, but as that declined the local fishing industry used the harbour. It consists of two basins but only the inner basin is used for mooring. Today, there are 51 berths on the pontoons, for 6 and 8 metre boats, which are predominantly leisure craft.
A slipway is available for launch and recovery, and a fee (pdf) is levied.
The outer basin has a small sandy beach which is ideal for parents and children, offering good paddling and opportunities for learning water sports. Bodyboarding is possible when the swell is running in front of the caravan park. There are also excellent walking spots, east or west along the coastal path.
Those visiting Hopeman harbour by vessel should contact the harbour office to inform them of your arrival. You can call 01542 831700 or radio VHF Channel 16, working channel 12.
Quay and Pier Lengths
A quay wall of 288 metres is allocated for pleasure boats.
For up to date information please contact the harbour by phone on 01542 831700 or email buckieharbour@moray.gov.uk.
Rate this Page