School Meals - Primary
   Nutritional Standards for Food and Drink in Schools  
   Allergen Sheets       Allergen Sheets Keith/Fochabers
National regulations for school meals in Scotland changed in April 2021. The changes are to help reach the Scottish Dietary Goals and to minimise the risk to the health of children and young people. By limiting the amount of red and red processed meat; reducing the intake of fat, sugar and salt; and increasing fibre, fruit and vegetables we'll get closer to those goals.
How much do school meals cost?
All children are eligible for free school meals until they reach P6. Meals from P1-P5 are available automatically. From P6, school meals can be purchased online and from the school. Information regarding the roll out of free school meals to the remaining primary school year groups (P6-P7) will be provided when available
P1-5     Free
P6-7     £2.40
Find out if your child is eligible for free school meals from P6 to P7.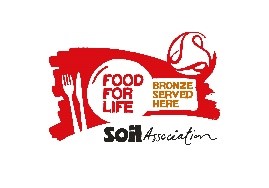 Our school meals service aspires and works to achieve the Soil Association Food for Life goals. We are proud holders of the Food for Life Bronze award for our Primary schools menu and continually strive to provide a service of excellent quality in line with national standards and guidelines. We offer meals where over 75 percent of the menu is freshly prepared with ingredients that are GM free, with no undesirable E-numbers or hydrogenated fats
Our catering service is proud to be working with local supplier to provide ingredients for the school menu
• Free Range Eggs –Allarburn In Elgin
• Fruit and Vegetables – Swansons in Elgin
• Quality Fresh Meat – Andersons Butcher in Buckie supplies to Buckie, Keith and Fochabers area. Fraser Brothers in Forres supply to Forres, Lossiemouth, Elgin and Speyside Area.
• Fresh Bread- Straithisla Bakery provides to Keith and Fochabers area.
Allergen Information
Please see above the allergen information for all our dishes. The Keith and Fochabers ASG have different allergen sheets due to they have a different supplier for Bakery and Butcher.
Adapted Diets
The Catering department can provide adapted menus for pupils with medically diagnosed food intolerance.  If you require a menu please make your school aware for them to pass your details onto the Catering department.
How does your child pick a meal at school?
There is a short video to show how your child chooses a meal and how they collect there meal at lunchtime. Click here for Video Link
Contact Us
Catering Officer
Environmental Protection
PO Box 6760
Elgin
IV30 9BX

01343 557086
Rate this Page