School Travel Co-ordinator
The School Travel Co-ordinator is responsible for the development and implementation of School Travel Plans across Moray. These plans aim to stem the decline in the number of children walking and cycling to school and encourage more children to develop active and healthy travel habits.
School Travel
Not so long ago, children routinely travelled to school on foot, by bicycle or by school bus.  Today a new generation of mums and dads chauffeur their children to and from school in fear of their safety. With fewer children walking to school the traffic levels increase and more parents decide it is unsafe or unpleasant to walk or cycle to school - so the cycle continues.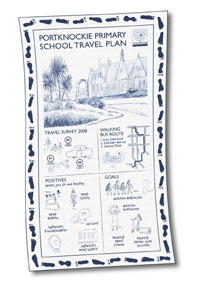 There is another way

The Moray Council has a dedicated team working with schools to develop and implement school travel plans to address this and other associated issues. Developing a school travel plan provides a planned approach to the hundreds of school journeys made each day and can lead to real benefits for pupils and the school, while having a dramatic effect on the local environment.
Outcomes can include:
More children walking and cycling to school
Improved health, road awareness and confidence of children
Physical improvements to the walking and cycling environment
Less pollution and congestion
Stronger sense of community and safety
How can you or your school get involved?
Firstly, speak to your school's health co-ordinator or active schools co-ordinator and see if a travel plan is already being developed. It may be possible to join the school's travel group or health committee if this is the case. Otherwise contact schooltravel@moray.gov.uk or call 01343 562516 to arrange a meeting about setting up a travel group for your school.