Our Flood Alleviation Schemes - Elgin
Dallas Forres Lhanbryde New Mill Rothes
The £86 million Elgin Flood Alleviation Scheme is the largest civil engineering project to be undertaken in Moray.  The scheme was completed in January 2016 and provides protection from flooding from the River Lossie, affording protection to 860 residential and 270 commercial properties in Elgin. The scheme is designed to provide a current-day standard of defence of 1 in 200 years, which equates to a 0.5% chance of occurring in any given year. 
The scheme was officially opened on 8 March 2017 by Roseanna Cumming MSP, Cabinet Secretary for the Environment, Climate Change and Land Reform and Councillor Allan Wright, Convener of Moray Council.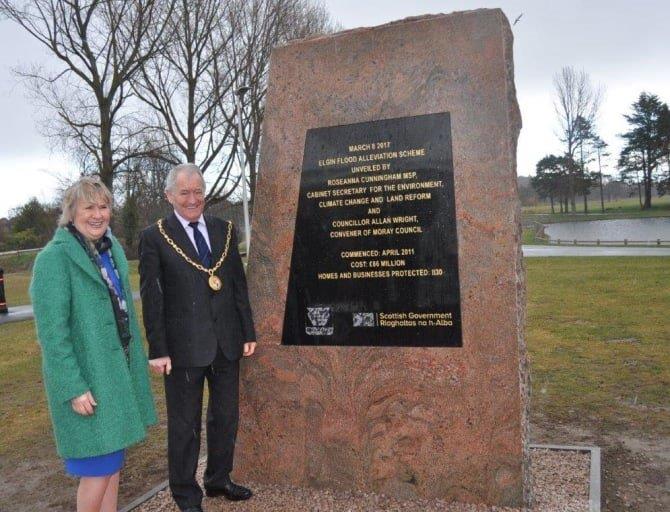 History of flooding in Elgin
Around 20 flood events have been recorded in Elgin since 1750.  Most recent floods were in 1997, 2000, 2002, 2009 and 2014.
In 2002 over 200 households were evacuated and in the 1997 and 2002 floods key transport links were severed.
In 2014 whilst only partially completed, the Elgin Flood Alleviation Scheme protected approximately 270 residential and 75 commercial premises from flooding, avoiding damages of an estimated £29 million
The Scheme
The preferred scheme was selected in February 2004. A Flood Prevention Order was published in October 2007 and confirmed by Scottish Ministers in December 2010, with construction starting in April 2011.
The Scheme comprises:
A series of set-back flood embankments and flood walls. Flood plain between set-back defences was lowered to form a two-stage flood channel. The combination of set-back defences and lowered flood plain allows flood flows to pass safely through Elgin.
New flood relief channel opposite the Cathedral
New diversion channel to move Tyock confluence approximately 1.5 km downstream
Two localised defences in area downstream of Elgin constructed.
Construction of three bridges:
Old Bishopmill Bridge replaced and now known as Lossie Wynd footbridge
Brewery Footbridge which spans new relief channel at Cathedral and forms extension to existing Brewery Bridge
Pansport Bridge replaced by the new Landshut Bridge. It is on existing alignment but spans both existing river channel and new flood relief channel.
Contact Us
Flood Risk Management Team

Rate this Page