What Goes Where?
Download a printable version for your home (PDF)
All Paper & Card Products
Yes please
√     Newspapers & magazines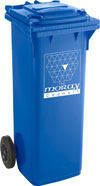 √     Phone books & yellow pages
√     Cardboard boxes and packaging
√     Beverage cartons
√     Envelopes (inc.window envelopes)
√     Letters and unwanted mail
√     Scrap & shredded paper
No thanks
X     Plastic bags
X     Plastic bottles
X     Polystyrene
X     Crisp packets
X     Padded envelopes
X     Tissues
X     Metallic wrapping paper
X     Food contaminated paper/card
X     Used wallpaper
X     Painted paper/card

 
All Glass Containers/Sacks
Yes please
√     Glass Bottles and jars (please rinse)

No thanks
X     Plastic bags
X     Pyrex
X     Mirror or window glass

 
Cans & Plastic Bottles
Yes please
√     Drinks cans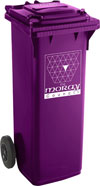 √     Plastic drink bottles & containers (types PET 1, HDPE 2 & PP5)
The plastic type code can be found embossed on or near the base of the plastic bottle.
√     Food tins
√     Foil food trays
√     Clean tin foil
√     Aerosols
√     Metal bottle tops
√     Metal jar lids
√     Plastic bottles
√     Plastic containers
√     Tablet & Medicine bottles
√     Yogurt & Margarine tubs (please rinse)
No thanks
X     Plastic bags
X     Plastic toys
X     Oil & paint tins

 
All Organic Garden and Kitchen Waste*
Yes please
√     Grass Cuttings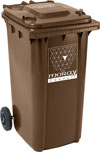 √     Leaves & small branches
√     Plants & weeds
√     Hedge trimmings
√     ALL food waste
No thanks
X     Dog Fouling
X     Plastics
X     Root balls
X     Rubble or Stones
X     Soil, turf or sods
X     Blocks of wood
*From 01 April 2019, a charge has been in place for the collection of garden waste. Food waste is collected free of charge. Apply for a garden waste permit.

 
All Other Waste that Cannot be Recycled
Use your green bin for all other waste.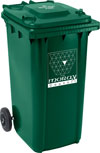 Please make sure all waste is contained within the bin, with the lid closed.
Please do not leave excess or side waste beside your bin as it will not be uplifted and
could be burst open by birds and animals.
Ash from coal fires canot be recycled and should be placed in your green bin **.
**Always let the ash cool down before placing in any bin. Wrap in newspaper to cut out dust dispersal when servicing your bin.
Residual waste bins are serviced three-weekly and only ONE bin will be serviced per household per collection.
---
Recycling Centres
Larger amounts of recyclable materials collected at kerbside as well as many other recyclable materials can also be taken to your nearest Recycling Centre
Yes please

√     Batteries, Car batteries
√     CD's & DVD's 
√     Engine oil
√     Rubble
√     Scrap metal
√     Textiles
√     White goods
√     Wood
√     (WEEE) Waste Electrical & Electronic Equipment
Gollachy Recycling Centre, Buckie
Chanonry Recycling Centre, Elgin
Waterford Recycling Centre, Forres
Balloch Road Recycling Centre, Keith
Spey Bay Recycling Centre, Dallachy
Contact Us
Recycling Hotline

Rate this Page