The Moray Integration Joint Board
In Moray the partnership of  health and social care is governed by the Moray Integration Joint Board (IJB).
The board had been operating in shadow form since April 2015 and took up its full powers on 1st April 2016
Membership comprises eight voting members - four elected members of The Moray Council and four representatives of the NHS Board - supported by advisors from the council, NHS, third sector and the community.
The IJB has responsibility for the planning, delivery and resources for health and social care services as delegated by the NHS Board and Local Authority.
It has a Chief Officer who is accountable to the MIJB, Chief Executive of NHS Grampian and the Chief Executive of The Moray Council.
The framework for the governance and operation of the board is set out in the Integration Scheme which was signed off by the Scottish Government in February 2016.
---
The IJB holds meetings every other month which are open to the public.
Minutes and agenda papers for meetings can be viewed via the link on the left side of this page.
The IJB has an agreed set of Standing Orders.
---
At its meeting on 28 April 2016, the Moray Integration Joint Board approved the draft Mainstreaming and Equality Outcomes Reports  for a six week consultation period.
The Mainstreaming Report outlines how the Board intends to meet its duties arising from the Equality Act 2010. 
The Equality Outcomes report sets benchmarks for the next four years which will measure how the Board's Strategic Plan is making a difference for groups in Moray who are protected under the Equality Act 2010. Progress on these outcomes will be published at least once every two years. 
The reports are available here:
Guide to information
On 27 April 2017, the IJB approved the Board's Guide to Information Publication Scheme (PDF).
Further information is available in the Access to Information Policy (PDF) and on the Council's FOI Requests & Responses page.
Complaints
Click on the image below to read: How to Complain: Moray Integration Joint Board – A Guide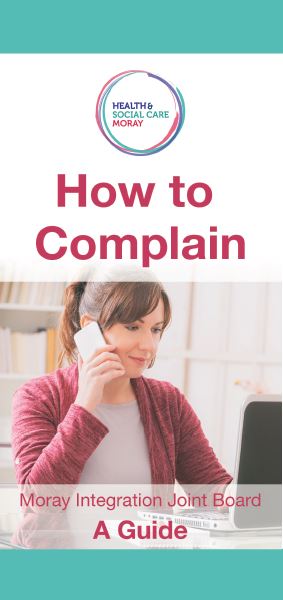 For more information please see our Complaints Handling Procedure or email complaints@moray.gov.uk for more detailed advice.
Contact Us
Moray Integration Joint Board
Council Office
High Street
Elgin
IV30 1BX

01343 567187
Rate this Page